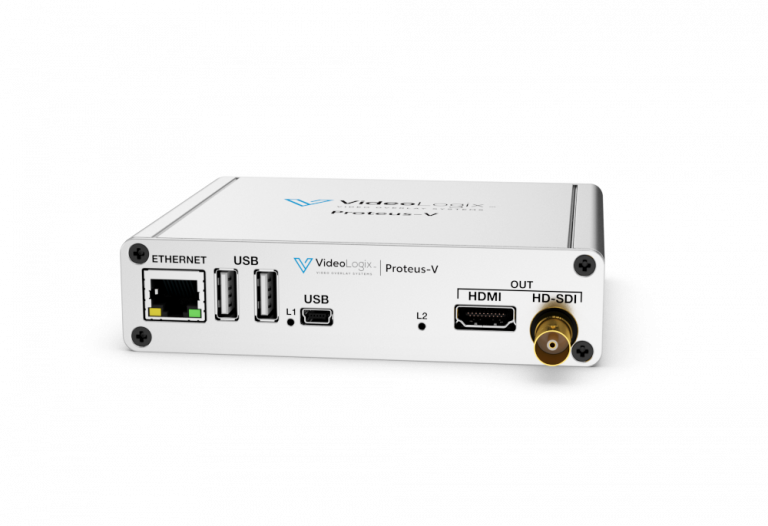 HD VIDEO OVERLAY DEVICE
PROTEUS-V
Full HD and SD Overlays
HDMI + SDI Inputs and Outputs
The Proteus-V is a video overlay device that overlays crisp text, graphics and telemetry data over standard HDMI and SDI in full HD and SD resolution. This overlay solution allows for the display of data, text, images, advanced dynamic widgets, and more. Users can easily customize Proteus-V with an external USB keyboard or through RS232 ports. To Download Our Brochure & Manuals, Click Here. If you are a previous user of Proteus-IV, click here.
Full HD and SD video overlay device.
Make changes on the fly with a USB keyboard or through RS232 port.
Easily overlay titles, date/time, lat/long, logo's, etc.
Overlay variables via CSV sentence.
Typical Interconnect Diagram
Applications
Overlay time, date, & images
Point of sale (POS)
Medical & Scientific
XY Measurement

Geotagging w/ Google Earth
Security and Surveillance
Frame counter
Many more…
VideoLogix Proteus-V Specifications
General Features:
Full High Definition Video Overlay
Stand-alone operation i.e. no PC required
Simple user interface for configuring screen via USB keyboard
Overlay data from any GPS modem ($GPRMC, $GPGGA, $PTSAG, etc.)
Overlay data from any NMEA sensor ($GPWPL, $SDDPT, $SDDBT,$WIMTW, $WIMWV, etc.)
Overlay variables from any CSV data stream
Overlay texts such as user titles, time, date, latitude, longitude, etc.
Overlay PNG & JPG images
Generate KML file with multiple user defined place markers 1
Built-in eCompass
Built-in absolute orientation sensor 3
User configurable fonts
Over 30 drawing commands through RS232, Ethernet, USB
Battery backed up real time clock (RTC)
Per pixel alpha blending
1920 x 1080 OSD overlay resolution
Video:
HD-SDI input
HD-SDI output
HDMI input
HDMI output
1080i @ 50, 59.94, 60 Hz
720p @ 50, 59.94, 60 Hz
1080p @ 23.94, 24, 25, 30 fps
NTSC & PAL
Fast video input to output delay i.e. 0.3 μs
Communication ports:
2 x RS232
1 x CAN
1 x USB2.0 Device
2 x USB2.0 HOST
1 x Ethernet 10/1003
1 x IRIG-B
Additional features:
Analog Inputs: Convert analog inputs to speed, depth, pressure… 2
Quadrature Inputs: Convert count to distance, speed…
Supported Devices: GD Cineflex, Bar code scanners, VectorNav GPS/INS,, Smartmicro radar
Apps: XY Measurements, Reticle, Rov situation awareness, Aerial situation awareness, Count up/down timer
Graphics Widgets: Slider, Compass
Generate KML for Google Earth: Geotag, Georeference 1
Design + Dimensions:
Box Dimensions (mm) 125 x 106 x 30
Weight (1lb)
Power (6-42VDC, 4W)
2-year warranty
1 Optional feature
2 Maximum input range: 3.3V
3 This feature will be supported in the next software release due July 15, 2019
Need product customization?
We can customize Proteus to better suit your requirements