Proteus is a High Definition (HD) and Standard Definition (SD) video overlay device engineered to work with the latest generation of subsea video cameras. It is used throughout the offshore oil and gas industry including diving, remote operated vehicles (ROV), and dive video inspection systems.
Proteus supports the overlay of real-time text, images, telemetry data, and more. Our Subsea ROV App makes it easy to overlay subsea parameters in text and graphical formats. Such dive parameters include: heading, depth, pitch and roll (ROV or camera), pressures, temperature, target (bearing), distance to target, and a powerful rolling compass depicting ROV heading by using our library of dials, gauges, and heading indicators.
In addition to this data, your logo, your client's logo, and much more can be easily displayed while hot keys allow data to be input quickly.
Proteus also accepts quadrature encoder inputs for tether/winch payout distance.
The screen below is an example of our subsea app. In order to facilitate UI (user Interface) description, information is divided into 6 groups.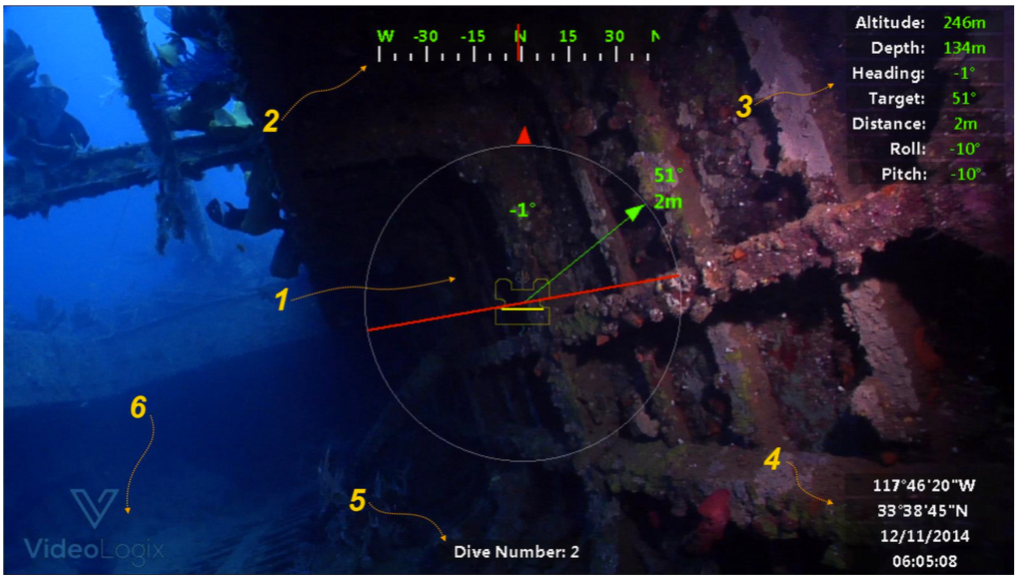 | Group # | Description |
| --- | --- |
| 1 | ROV situation awareness widget. This widget depicts ROV parameters1 such as heading, target (bearing), distance to target, roll and pitch (ROV and Camera) |
| 2 | Rolling compass depicting ROV heading |
| 3 | ROV related parameters1 |
| 4 | GPS related parameters1 |
| 5 | User defined text field |
| 6 | Company logo |
1
Parameters: Proteus can obtain parameters directly from sensors or parse a comma delimited message via RS232. For additional details, review ASCII token.